Over 1.800.000 fittings manufactured per year.
With automatic storage 6120 pallet spaces handling capacity, 120 pallet per hour.
85% of orders delivered within three days.
Our Quality Policy
The strict control for the safety of the entire manufacturing process and for the reliability of finished product guarantees fittings which can be also used in extreme working conditions. 
The testing laboratory Eurolab works either at direct service of Eurostandard quality or with accredited testing reports supporting Customers.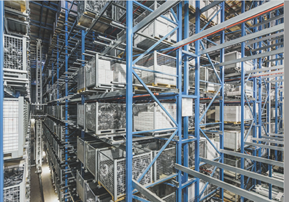 TO OUR CUSTOMERS who apply to meet the expectations of quality and good service,
TO OUR STAFF, PARTNERS AND REPRESENTATIVES, who lead with competence and desires throughout Italy and the World,
TO OUR SUPPLIERS, a valuable chain and partner in the growth of Eurostandard,
We have justified pride and trust in our NATURE, for which we have made a positive contribution to a livable and sustainable future.